7 Best Naruto Video Games
With the recent release of Naruto to Boruto: Shinobi Striker and the upcoming Jump Force, we decided to choose seven best Naruto games from various platforms and generations for you to check them out
Despite the manga beginning in 1997, there have been over 50 video games based upon Naruto released. That's more than two games per year, and with the recent beginnings of the Boruto continuation, the ninja series has shown no signs of slowing down. Bandai Namco has held the rights to the series for the past decade, and their most recent release, Naruto to Boruto: Shinobi Striker, recently came out on PlayStation 4, Xbox One, and PC.
With the massive amount of available Naruto games to play, it can be overwhelming for fans to know where to start. Thankfully, we've combed through the titles to come up with seven of the best Naruto games. Since many of the games are sequels that are part of their own mini-series, we've limited the list to only include one game per series. That way CyberConnect2's excellent Ultimate Ninja Storm series won't take up multiple spots when there are a variety of other good games worth spotlighting.
Naruto: The Broken Bond
Ubisoft Montreal worked on two separate Naruto games (2007's Rise of a Ninja and the 2008 sequel The Broken Bond), and for many gamers they represent the highest quality mark that hasn't been duplicated since then. The games are split between traditional combat sequences and a 3D role-playing mode that has players taking on missions. Being able to explore Konoha and other locations in the series helped immerse players in a story that covered the first 135 episodes of the anime throughout both games.
Both games by Ubisoft are excellent in their own right, but The Broken Bond was a strong sequel that added some additional functionality (such as two-on-two battles) and ironed out some of the rough edges of the original. So, if you can only play one check that out, although both are definitely worth any Naruto fan's time.
Naruto Shippūden: Ultimate Ninja 5
The Ultimate Ninja series of fighting games on PlayStation 2 were very similar to the Dragon Ball Z: Budokai titles that were released around the same time period. Ultimate Ninja 5 featured the largest roster of playable characters, and retained the cel-shaded look that helped the 2D fighter standout. It's not all just about fighting, though, as there's an eight act story mode and a RPG section that allows players to talk to various villagers. The game itself is a bit of a rarity as it never received a North American release, so it might be easier to pick up one of the prior installments if you're not in Europe or Japan.
Naruto: Path of the Ninja
While there have been plenty of fighting games, there have been surprisingly few traditional role-playing games starring the Naruto cast. One of the exceptions is Naruto: Path of the Ninja, which was released in Japan for Game Boy Advance, but on Nintendo DS in North America. The game is a pretty basic turn-based title that doesn't look to innovate within the genre, but it's nonetheless a fun adaptation of the Chūnin Exams arc.
Two sequels were made, but only one of them made its way to North America. Called Naruto: Path of the Ninja 2, the turn-based RPG features a completely original story rather than being based upon events of the manga. That helps it feel fresh as you can only relive the same story arcs so many times before they start to feel stale.
Naruto: Powerful Shippūden
This colorful spin-off stars Naruto and his friend/rival Rock Lee. Featuring a cute art style that's also seen in the Naruto SD spin-off, the brawler brings with it a great sense of humor. Not only is the combat fun in the Nintendo 3DS exclusive, but there are a bunch of gags that break the fourth wall. It's an entertaining romp throughout, and one that benefits from not taking itself overly serious.
Naruto: Ultimate Ninja Impact
While most Naruto fighting games focus on one-on-one or team battles, that isn't always how the action goes down in the main series. The odds are often stacked against Naruto and his crew, and it's not uncommon for the hero to be facing off against many foes at once. That feeling of taking on a whole army is one area where Ultimate Ninja Impact succeeds as the game takes inspiration from Dynasty Warriors and provides a very different type of action game. This change in style ends up working very well, and it's a shame that further musou games weren't developed. Hopefully that will change in the future, but for now this PlayStation Portable hit will have to do.
Naruto Shippūden: Naruto vs. Sasuke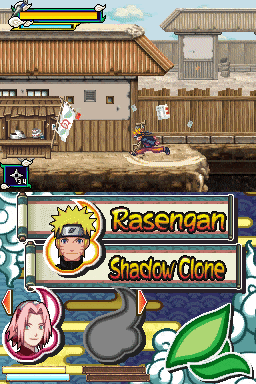 This Nintendo DS game was unfocused as the competitive multiplayer tried to turn the brawler into a fighting, but the core single-player was a highly satisfying mode. While not the most visually impressive DS game, Naruto vs. Sasuke features some challenging and memorable boss fights that make it a worthwhile experience. There's also an enjoyable Boss Rush mode that allows players to play cooperatively, and it really opens up the gameplay to some new experiences.
Naruto Shippūden: Ultimate Ninja Storm 4
All of the games in CyberConnect2's 3D fighting game series are worth playing as they provide a faithful adaptation of the anime's main arcs, but the series went out on a strong last outing with Ultimate Ninja Storm 4. Featuring dazzling visuals and some great cinematography, the story mode closes out Naruto's journey in an emotional way. The Boruto DLC also helps kicks off the next chapter of the series, and hopefully this won't be the last time that the developer behind Asura's Wrath works on a Naruto title.
If you missed out on the earlier titles, they were recently remastered as the Ultimate Ninja Storm Trilogy for Nintendo Switch, PlayStation 4, Xbox One, and PC. The Switch version is a particularly great way to play as the titles are a perfect fit for portable play.
Honorable Mention: Non-Naruto Games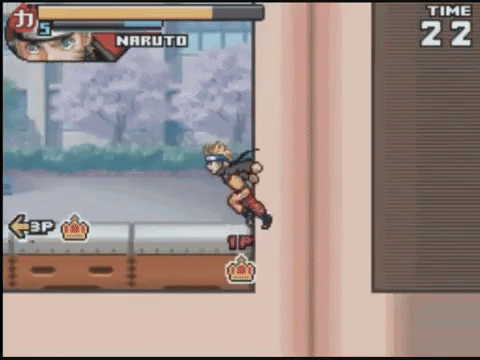 Jump Ultimate Stars
Due to the manga being a part of Weekly Shōnen Jump, characters from Naruto have often appeared in crossover titles. These include the excellent Nintendo DS platform brawlers Jump Super Stars and Jump Ultimate Stars, and the more recent 3D beat 'em up J-Stars Victory VS. Naruto is also set to be one of the key characters in the upcoming fighting game Jump Force, which is set to release in 2019 for PlayStation 4, Xbox One, and PC.
---
---